Safe Life.
We are provide best patient care home service bd
Thank you for letting me know about your company, Patient Care Home Service BD. It's great to hear that your company provides nurse and caregiver services to patients in Bangladesh.
As a provider of home-based care, your company can play a vital role in helping patients who are unable to visit hospitals or clinics due to illness, disability, or old age. Your nurse and caregiver services can provide essential medical and non-medical care to patients, including administering medication, monitoring vital signs, providing personal care, and assisting with daily activities.
To ensure the safety and quality of care, your company should ensure that your nurses and caregivers are properly trained and licensed to provide home-based care services. It's also important to provide ongoing training and support to your staff to ensure they are up-to-date with the latest medical and caregiving practices.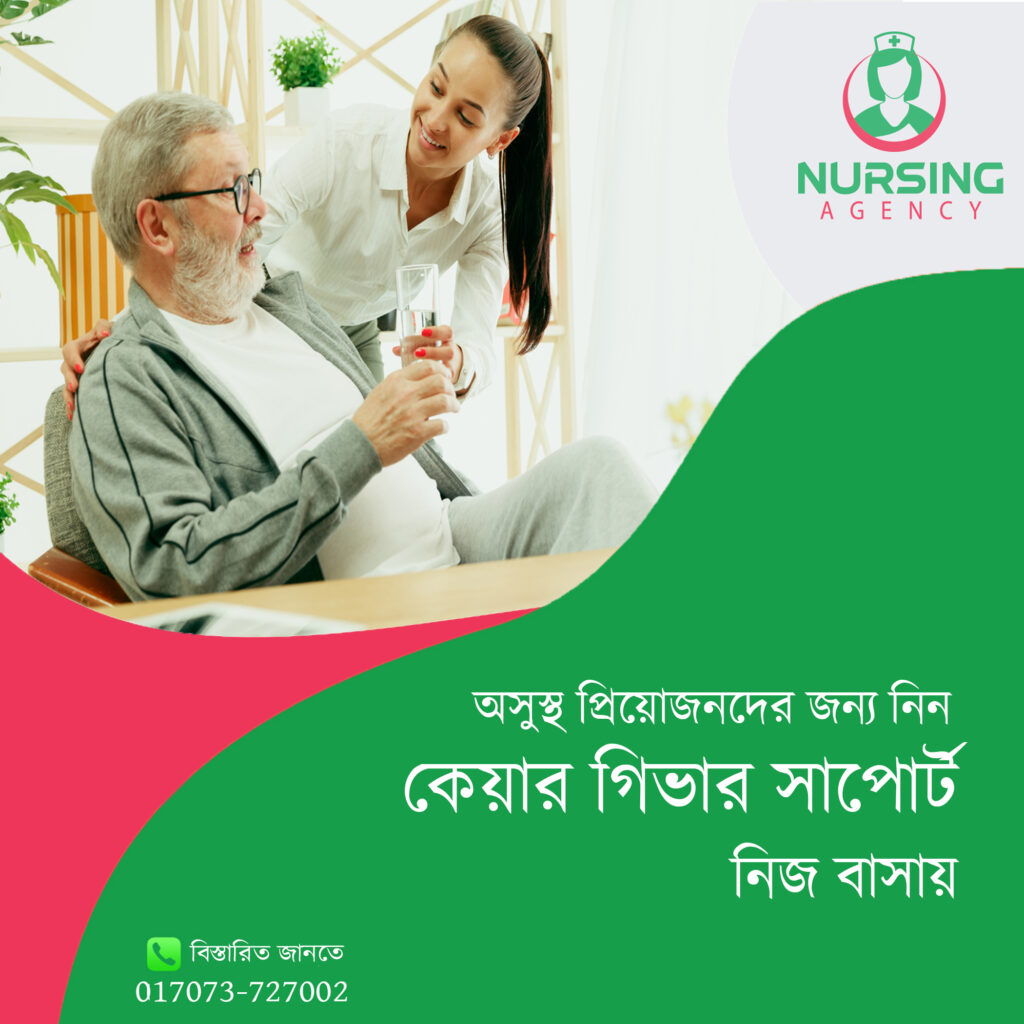 Patient Care Home Service in Bangladesh
Patient care home services in Bangladesh refer to professional assistance provided to individuals who require medical care and attention at home. These services are usually provided by trained healthcare professionals and include services such as nursing care, physiotherapy, occupational therapy, and palliative care.
In Bangladesh, there are several companies and organizations that provide patient care home services. These services are typically provided to individuals who are elderly, disabled, or chronically ill and require ongoing medical care and support.
Caregivers are persons who serve patients or the elderly in hospitals/homes. Caregivers' responsibilities are many and varied. It varies according to the patient's age, the patient's disease, or the care needs of an elderly person.
The more caregivers are hired for home care services, the more they provide care support to patients. Caregivers take care of the patient depending on the condition of the patient and the needs of their relatives.
The skilled team of Nursing Agency BD is always active with Caregiver Support at Home service. We have expert and educated Caregiver Support who will provide 8/12/24 hours of service at the patient home and hospital.
Nursing Service Price
We Provide Best Caregiver Support BD
We Provide Nursing Other Service
A Caregivers, also known as a "Caregivers" or "healthcare assistant" in the USA, is an allied health professional who supports the work of physicians, nurse practitioners, physician assistants, and other health professionals, usually in a clinic setting. Medical assistants can become certified through an accredited program. Medical assistants perform routine tasks and procedures in a medical clinic.
A "medical assistant" may be certified or registered, or may be a loosely defined group (covering related occupational titles such as "medical office assistant,"  "clinical assistant,"  "Caregivers,"  or "ophthalmic assistant"). The occupation should not be confused with that of physician assistants, who are licensed professionals trained to practice medicine and perform surgical procedures in collaboration with a physician.
Home health nursing is a nursing specialty in which nurses provide multidimensional home care to patients of all ages. Home health care is a cost efficient way to deliver quality care in the convenience of the client's home. Home health nurses create care plans to achieve goals based on the client's diagnosis. These plans can include preventive, therapeutic, and rehabilitative actions.  Home health nurses also supervise certified nursing assistants. The professional nursing organization for home health nurses is the Home Healthcare Nurses Association (HHNA). Home health care is intended for clients that are well enough to be discharged home, but still require skilled nursing personnel to assess, initiate and oversee nursing interventions.
Patient Care Attendent home service BD
The caregiver is in close contact with the person receiving care and should monitor their health in a reasonable way. Some people receiving care require that someone take notice of their breathing. It is expected that a caregiver would notice changes in breathing, and that if a doctor advised a caregiver to watch for something, then the caregiver should be able to follow the doctor's instructions in monitoring the person.
Some people receiving care require that the caregiver monitor their body temperature. If this needs to be done, a doctor will advise the caregiver on how to use a thermometer. For people who need blood pressure monitoring, blood glucose monitoring, or other specific health monitoring, a doctor will advise the care giver on how to do this. The caregiver should watch for changes in a person's mental condition, including becoming unhappy, withdrawn, less interested, confused, or otherwise not as healthy as they have been. In all monitoring, the caregiver's duty is to take notes of anything unusual and share them with the doctor.