Safe Life.
We Provide Baby care home Services BD
Are you looking for a babysitter to take care of your baby? No more thinking, now nursing agency BD is providing skilled, trained, and educated babysitters. Our babysitters are responsible for everything a baby needs from morning to night. Like a mother, our babysitters do everything for your baby from morning to night. For example:-
The baby Changing diapers.
Feeding
Bathing.
Dressing.
Swaddling.
Feeding and burping.
Cleaning the umbilical cord.
Caring for a healing circumcision.
Using a bulb syringe to clear the baby's nasal passages.
Taking a newborn's temperature.
Tips for soothing the baby.
Baby care home Services BD is one of our services where we take care of your darling child. In this service, our skilled and trained babysitter team is taking care of your darling baby at your home or hospital with 8/12/24 hours of service. Babysitter and Nanny Service in Bangladesh.
With thousands of jobs in this busy city life, you can choose to take care of your baby with our Baby Care at Home service. Don't worry, contact us today.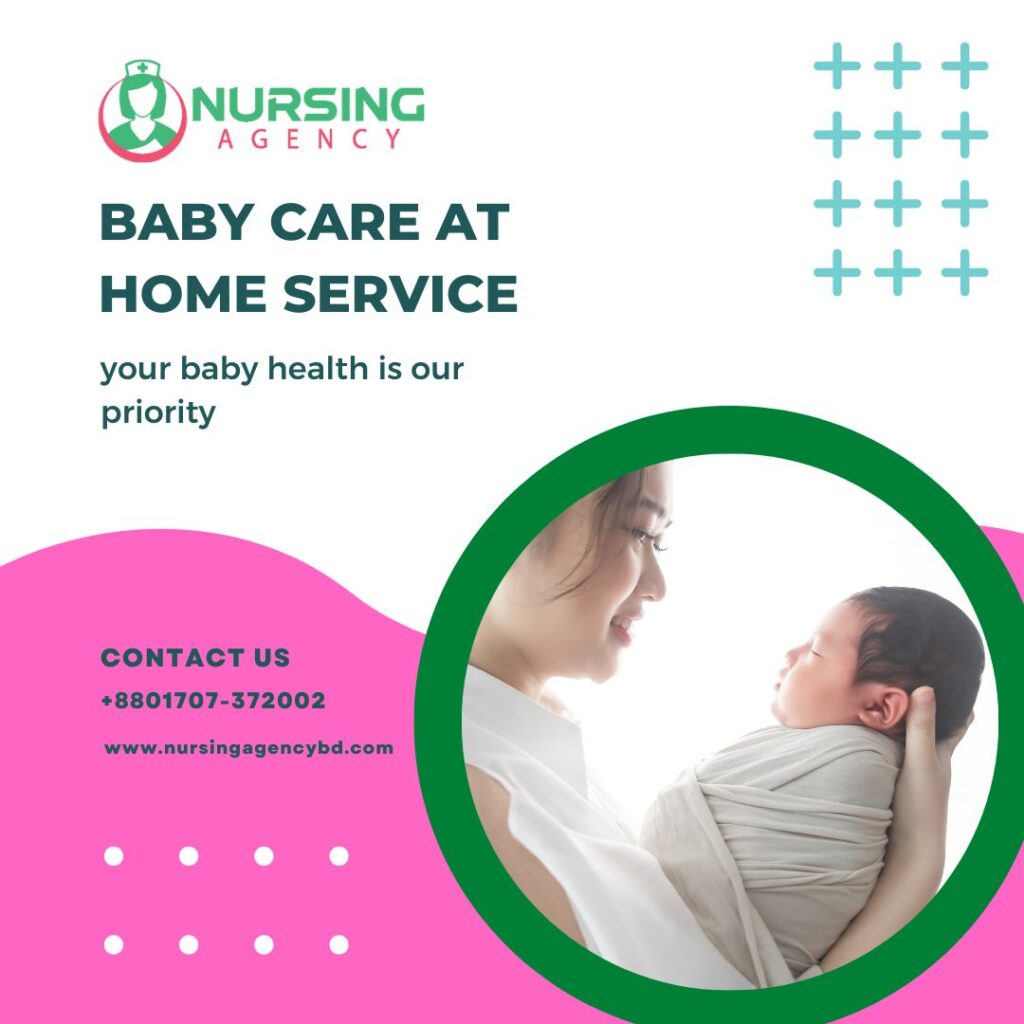 Babysitting in Bangladesh
Babysitting is providing short-term child care. Although babysitting can be a paid profession for anybody, it is most commonly associated with early adolescent girls who are not yet old enough to work in the mainstream economy. It offers freedom from parental oversight, disposable income, and an introduction to childcare methods. In the 1920s, it became a social position for teenagers, and in suburban America in the 1950s and 1960s, when there were many young children, it took on particular significance.
The care and supervision of one or more children at a time, ranging in age from two weeks to 18 years, is known as "baby care," also referred to as "day care." Child care often refers to the care given by caregivers who are not the child's parents, even though the majority of parents spend a significant amount of time caring for their baby or children. A vast range of specialists, organizations, settings, activities, and social and cultural norms fall under the broad issue of Baby care. Early childhood education and care is a crucial yet frequently disregarded aspect of a child's development.
Children can get care from a range of people and organizations. Similar-aged children's care facilitates a range of developmental and psychological consequences for both the caregiver and the charge. This is because, in this particular instance, their mental growth cannot proceed as it ought to at their age. This responsibility for providing care may also be assumed by the child's extended family. Center-based childcare is another type of childcare that is expanding in comparison to family childcare. These duties may be delegated to paid caregivers, orphanages, or foster homes in place of family caregivers to provide care, housing, and education. Baby care home Services BD.
Professional caregivers provide care in either a center-based setting (such as daycares, preschools, and childcare centers) or a home-based setting (such as family daycares or nannies). The majority of childcare facilities mandate that staff members undergo rigorous first aid training and hold CPR certification. Background checks, drug tests at all locations, and reference checks are typically prerequisites as well. Advanced learning facilities that integrate early childhood education or elementary education might be used for child care. "The schedule of daily activities should be flexible to capture the interests of the children and their unique talents. Its goal should be to support incremental developmental progress in a safe and healthy setting. Baby care at Home. Baby care home Services BD.
Baby care home Services BD
Child care varies dramatically across cultures. While many global communities prefer children aged 7–10 for designated caregiving responsibilities, children no younger than 12 are preferred in the Western world where paid childcare is common. For example, very young children in Zaire regularly use machetes safely and skillfully while American middle-class adults do not trust their young children with knives. Child development is not just biological or psychological—it is also a cultural process and it is not universal. In countries where children are given more responsibility the adults serve as "occasional supervisors" and children take pride in their responsibilities. Baby care home Services BD.
There are also cultural implications when it comes to child care outside of the home. An important aspect that many center-based child cares have been trying to implement into their mission statement and everyday routine is being aware of the multiple cultures they will be dealing with. This was seen as being important because of the growing numbers of families considering and seeking childcare. Programs must understand similarities and differences between cultures/ ethnic groups. This must be done to understand the overall diversity of the community. Children should be able to have their cultural practices represented as well as be able to learn about other cultures they have not been exposed to.
We Provide Nursing Other Service
The skilled team of Nursing Agency BD is always active with Caregiver Support at Home service. We have expert and educated Caregivers who will provide 8/12/24 hours of service at the patient home/hospital. We are provide three types of caregivers to serve patients. 1) Diploma and B.Sc. Nurse. 2) Caregiver Support. 3) Paramedical.