Sample collection Home Service BD
Nursing Agency BD is now collecting samples of  test at home for the benefit of the patients. Our trained and experienced sample collection team will reach your home as soon as you receive your phone. Not only that, but within 08 hours of collecting this sample, you are getting the result of the test through SMS or email. In addition, our skilled and trained Patient Care team is providing all necessary services to patients at home or in the hospital. So call our hotline number now without delay. Contact us to get our other services including Patient Nursing Care and Sample collection Home Service BD.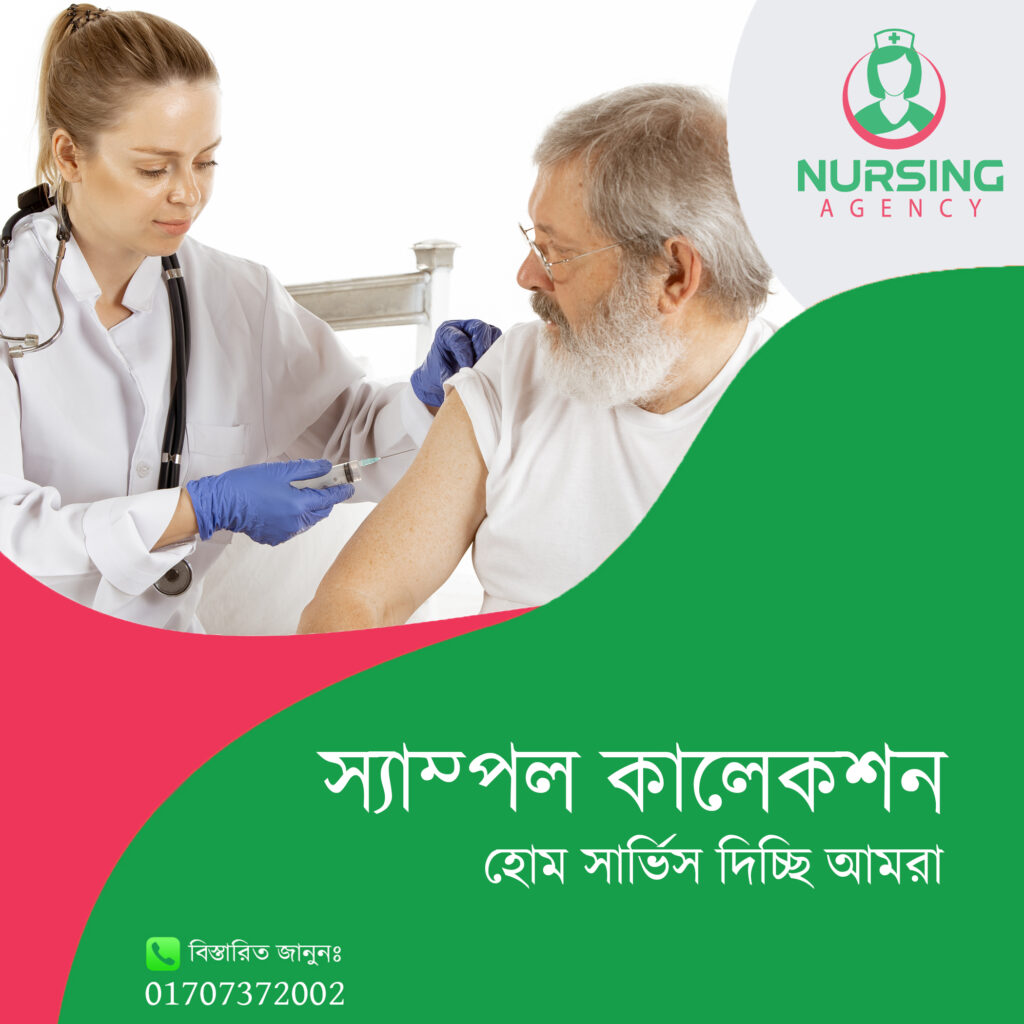 Sample collection home service in Dhaka, Bangladesh
Service for collecting samples at homes in Dhaka (COVID, non-COVID and all collecting samples)
Our mission is to offer top-notch special healthcare services to people who are unable to travel to the hospital to donate blood, urine, or stool samples for treatment or regular health checkups.
This list includes the following categories: At this time, phlebotomists from our company are taking samples at your location along with Gulshan, Niketan, Banani, Banani DOHS, Baridhara, Baridhara DOHS, Bashundhara, Badda, Mohakhali, Cantonment, Uttara, Abdullahpur, Dhanmondi, Lalmatia, Mohammadpur, Farmgate, Pallabi, Mirpur, Kafrul, Tejgaon
We prioritize the happiness of our patients.
COVID/non-COVID sample collection and entire sample collection: 01707372002
Customers can place orders by calling 01707372002, using Facebook Messenger, or visiting the Nursing Agency BD website (toll-free). Once they have given the name of their desired lab and the details of the tests they wish to have performed, our staff will inform them of the test cost, any discounts that may be available, and the schedule for Nursing Agency BD home sample collecting service.
How Sample Collection is Done?
Our highly trained medical technicians will visit the residence as arranged. They will follow established medical practices while collecting the sample, which may include blood, urine, stool, etc. PUM Netherlands assisted us in developing a unique procedure for collection and delivery. After collection, the sample will be transported directly to the lab via our specifically designed temperature-controlled carrier system.
How can I obtain a report?
We compile the report and distribute it to clients after the lab publishes the test findings. We will email you the soft copy as soon as it is published. If the customer requests hard copies of the reports, we send them to the patients' homes in a timely manner. There are no additional fees for hard copy delivery.
What are the business hours of Maisha Care Ltd.?
Nursing  Agency BD is open every day of the year to meet your healthcare needs. Our customer service takes orders from 8 a.m. to 10 p.m. You can always place a direct order through the website or send a message on the Facebook page. Right now, sample collection takes place from 8 a.m. to 6 p.m. However, we are making an effort to extend the hours. Home Sample Collection Service in Dhaka.
What industries do we serve?
Currently, Nursing Agency BD. serves the metropolitan cities of Dhaka. To find out if your location is covered, contact the customer service department. Home Sample Collection Service in Dhaka.
Our Other Service
The skilled team of Nursing Agency BD is always active with Caregiver Support at Home service. We have expert and educated Caregivers who will provide 8/12/24 hours of service at the patient home/hospital. We are provide three types of caregivers to serve patients. 1) Diploma and B.Sc. Nurse. 2) Caregiver Support. 3) Paramedical.